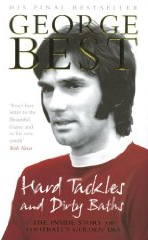 Hard Tackles and Dirty Baths - The Inside Story of Football's Golden Era
di George Best l'avevo comprato in quel di Derry, in un Centro Commerciale, poco dopo la mia visita al Bogside. Dovevo prendermi
The Catcher In The Rye
e prenderlo ancora in Irlanda del Nord, e ho trovato in vetrina di un negozio questo libro di Best. Un po' deluso (volevo visitare qualcosa di
Best-related
a Belfast, magari il suo murale, ma non ce ne fu l'occasione) per non aver fatto pellegrinaggio ai luoghi di Georgie Boy, un po' attratto dal prezzo (scontato a 3 sterle) e dalla voglia di prendere qualcosa circa Il numero 7 proprio nella sua terra. E così ecco fatto, comprato il libro. Libro che è stato ripreso e abbandonato un paio di volte, sopraffatto dalla precedenza di altri regali-acquisti-letture. Alla fine l'ho finito, ovviamente, e mi è molto piaciuto il modo in cui parla dei tanti giocatori leggendari della sua era, e di come racconta un calcio che cambiava, anche dal punto di vista del professionismo sempre più "esasperato", argomento ripreso puntando l'occhio a qualche anno dopo rispetto al bellissimo
My Father and Other Working-Class Football Heroes
di Gary Imlach, che lessi la scorsa estate. Anche questo ricco di aneddoti e storielle di quelle che piacciono a me. Tanto per dimostrare di nuovo il mio feticismo, a volte le parole che più contano di un libro, sono
quii scrivüü a matita
. Post-it, piccole frasi lasciate lì, piccole tracce di sè che si ricompongono in un sorriso, e che lei lascia in giro per le mie cose ogni qual volta ci vediamo, per farmi sentire la sua presenza anche quando siamo distanti. E a chi ora mi dirà "sei un rammollito, perchè parli di queste cose pure mentre scrivi di un libro su Best", rispondo che non sono un recensore di libri, ma, come Nick Hornby in
Una vita da lettore
, un recensore di quello che il libro significa per me. Dedicata a Pulici, visto che il personaggio in questione, prima di essere il
King of Old Trafford
passò anche per la Torino Granata, la citazione. Parla della fine di un'era, della retrocessione del Manchester United, privo della triade Charlton, Best, Law, decretata proprio in un derby perso col Manchester City, decretata proprio da un goal di Denis Law, del
King of Old Trafford
, proprio dall'ultima palla calciata da Law nella sua carriera. Un finale poeticamente "tragico", senza trionfo, per la carriera del Re.
It all came down to an incredible finale,

the

Manchester derby, with Denis Law playing for the "wrong" team. How ironic that it should be Denis Law's goal that would condemn United to the Second Division. His last-ever game before hanging up his boots. He turned away without the arm up and, for probably the first time, with his head down. He didn't kick another ball in this or any other club game. It was over.