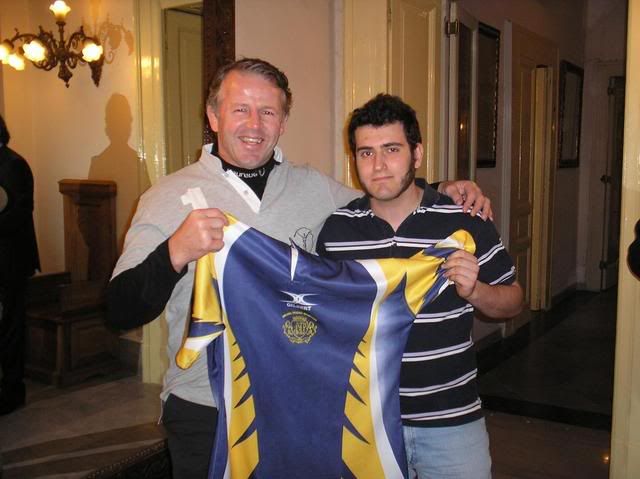 Alla fine a Napoli ci sono andato. Ho spostato i giorni da lavoro proprio per andarci. E ne è valsa la pena. Viaggio in treno chiudendo poco occhio (avevo di fronte uno che fino a Roma ha fatto le parole crociate commentandole ad alta voce), poi in bus fino al Municipio di Napoli. Un caffè, un po' di attesa, e mi accomodo in Sala della Giunta, dove vengo accolto da un "Giornalista?" e mi trovo addirittura a rispondere "Si".
A un certo punto arriva

Fitzpatrick

. Io mi armo di maglia del Tradate e macchina fotografica. Gli stringo la mano e gli chiedo di fare una foto con me, con la maglia della mia squadra. Lui, gentilissimo, posa. Io, per paura di essere molesto o fastidioso, dopo la foto lo lascio stare. E accade quello che mai mi sarei aspettato. Sean Fitzpatrick attraversa l'atrio e viene da ME. E si mette a chiaccherare con me, mi chiede come mi chiamo ("Billie, ending in -ie"), dove gioco, in che ru
olo gioco ("Back row and hooker" - lo so, paraculissimo), dove vivo (e gli spiego del viaggio di 700 km che ho fatto per venir fin lì). Poi mi fa anche un autografo. Gentilissimo, umilissimo. Fantastico. Uno che potrebbe guardarmi dall'alto dei suoi 51 caps da capitano degli All Blacks in basso e che invece viene a chiaccherare tranquillamente, con una semplicità e una gentilezza disarmanti!
A fine conferenza, due ore dopo, gli passo vicino per uscire. E lui mi saluta, mi indica a quella che penso fosse la figlia, e dice "This is Billie. He's travelled 700 kms to get here". Poi mi saluta dicendo "Billie, you're a big man". E se lo dice Fitzy, mi sento un grande uomo veramente.